About
The best cans change hands through Steel Canvas.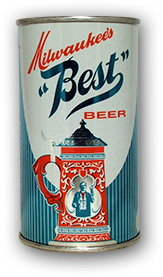 Steel Canvas, formerly Larwood Limited, was founded in 1991 by Ted Larsen, a beer can collector since 1975, who is recognized as one of the top dealers of rare and vintage beer cans in the United States. Steel Canvas is the trusted name for evaluating and purchasing collections and single cans because we have seen or acquired many of the best beer cans and beer can collections in existence.
We're also passionate about expanding the hobby of vintage beer can collecting. One of the ways we do this is by acquiring major collections from collectors who have been enjoying the hobby for many years, but are ready to part with all or some of their collection.
Steel Canvas sells the finest cans available and also pays the absolute highest prices for better beer can collections and individual rare cans. Generous finder's fees are available for referrals.
When you turn to Steel Canvas for buying, selling, or consigning your prized cans or collection, you actually help to preserve the hobby you've enjoyed for years.
It's all about who you know!